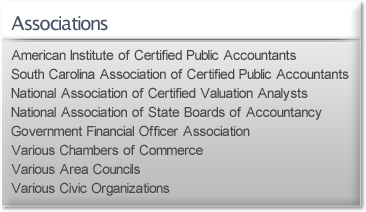 Our business exists to help our clients achieve their personal and business goals. We serve individuals and businesses of all types and sizes through innovative thinking, technologically-advanced processes, and friendly service.
Our work is guided by a set of core beliefs. We believe that:
Our clients should receive our best efforts and total loyalty.
Our clients' expectations should consistently be exceeded through extraordinary service.
We should maintain the highest professional standards.
We should continually seek to improve the quality of our work and service.
Our commitment to these principles contributes to our clients' success, our firm's growth, and the betterment of our community.
Our practice has a strong foundation in tax, auditing, financial accounting and consulting. We provide services in critical business performance areas, such as estate and trust administration, litigation support, valuation, cost segregation, internal controls, audit, and tax.