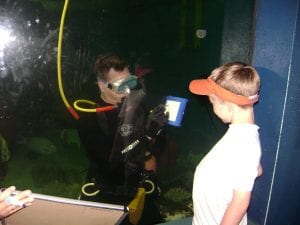 Neil Brown has been volunteering at the Riverbanks Zoo for as long as he's been working at Burkett, Burkett & Burkett as a CFP and CPA.  A skilled diver, he greatly enjoys having the opportunity to visit the zoo twice a month and spend a couple of hours in the aquarium. "I clean the rocks, vacuum the tank, and feed the fish," he says. "It's a great way to interact with different types of fish."
When the zoo first sent out a request for volunteers for Dream Night six or seven years ago, Brown was happy to participate.  A worldwide event that began in the Netherlands, Dream Night aims to provide one annual, cost-free evening at the zoo for disabled or chronically ill children and their families.  It gives the children an opportunity to be kids, and enjoy the same experiences that others do. "It can be hard to see inside a display window if you're in a wheelchair," says Brown.  When in the aquarium, he communicates with another volunteer on the outside of the tank by writing on markerboards, and is able to answer any questions or respond to any comments they have. In addition to having the zoo exhibits to themselves, the children and their families also get to enjoy a parade, face painting, and crafts.
Every year since Dream Night began at Riverbanks Zoo, Brown has made a point to rearrange his schedule so that he can be there, once even taking a red eye flight to get home in time.  Brown has a special fondness for the event, and strongly believes that others should find a passion and a way to give back that they enjoy.
Brown also volunteers at his church both on the finance committee and as an usher.